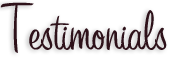 "Treats from the Dipp Shop have been a huge hit with my
clients as gifts.  I love that they can be personalized
for their business and personalities–it's a delicious way
to show that I pay attention to the details!"


Katie Mattis Consulting

*The Dipp Shop rocks!!
If you have a sweet tooth, look no further!"


Actor

"We served Lollicakes at our MOMS Club Spring Banquet for dessert, they were a huge hit! We incorporated them into our table centerpieces; they looked fabulous and tasted even better! I will be ordering from The Dipp Shop again & again"


President Maple Grove MOMS Club
– Rush Creek Chapter

"Not only are Amy's lollicakes the best I've had, working with Amy and The Dipp Shop has always been a treat! I can never get over how well decorated and cute they are while being the most flavorful, moist and unique cake pops I have had."


Kindred Kitchen
– Program Director

"I used the Dipp Shop for a high end Celebrity studded VIP event and they were a huge hit!  The best part was watching these star who watch their weight walk out the door with "one for the road".  The flavors were great and the concept was fun.  It was truly enjoyed by all."


Starkey Laboratories, Inc.